Vincent van Gogh: Irises
Some of the best known works of all time were painted by the Dutch Post-Impressionist artist, Vincent Willem Van Gogh (1853 -1890). Irises is among the most recognized of his pieces.
On May 8, 1889, Vincent Van Gogh committed himself to the asylum at Saint Paul-de-Mausole in Saint-Remy, France after many instances of hospitalization and self-mutilation. During his stay he painted some 130 paintings with the surrounding gardens and clinic becoming his main subjects for painting. Among these were the famous The Starry Night and Irises.
Inspired by the nature surrounding him, Van Gogh began his work on Irises within the first week of his stay at the asylum. Irises was most likely influenced by Japanese woodblock prints which were produced beginning in the 17th century. Like many artists of his time Van Gogh was influenced by the Japanese works. The use of black contours in Irises is a typical element of Japanese woodblock prints. It helped to reinforce the expressive power of the painting.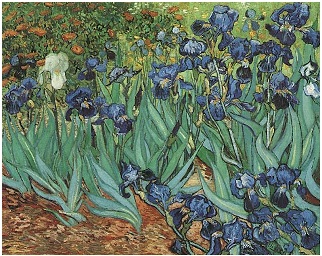 There are no known drawings of the piece, probably because Van Gogh did not consider it a masterpiece but simply a study. Upon receiving the canvas Van Gogh's brother, Theo, submitted it, along with The Starry Night, to the Salon des Independants in September of 1889.
Irises is on the list of the most expensive paintings ever sold, selling for 54 million dollars in 1987. Currently Irises is on display at The Getty Center in Los Angeles, California.
The Vincent van Gogh Gallery's Irises Resource:
Buy Irises Prints
High Resolution Images
Find out more about Van Gogh Flowers
"I can't work without a model. I won't say I turn my back on nature ruthlessly in order to turn a study into a picture, arranging the colors, enlarging and simplifying; but in the matter of form I am too afraid of departing from the possible and the true."
More Van Gogh Quotes