Zundert, The Netherlands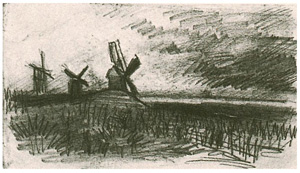 The Vincent van GoghHuis
The house where Van Gogh was born was torn down in 1903. In this same place a new building was constructed which houses The Vincent van GoghHuis Zundert. The Vincent van GoghHuis opened in August 2008 with a permanent exhibition of Vincent van Gogh: Roots of a Master about Van Gogh and his birthplace Zundert. On this building there is a commemorative stone marking it as Van Gogh's birthplace.
Address:Markt 27, Zundert
Phone: (0)76 597 19 99
Websitewww.vangoghhuis.com

Van Gogh Church
The Dutch Reformed church where Theo van Gogh, Vincent's father, was named pastor in 1849 is still standing today. Vincent van Gogh was christened in this church and his older brother, also named Vincent, who died as a baby is buried next to the church.
Hours of Operation: To visit this church inquire at the small house in the courtyard.
Nuenen, The Netherlands
Vincentre
Visitors can see an exhibition of photographs and documents from Van Gogh's time in Nuenen from 1883 to 1885. There is also a map showing the locations of scenes around the town that Van Gogh painted as well as a video about Van Gogh and his life in Brabant.

Address: Berg 29
5671 CA Nuenen
The Netherlands
Phone: +31(0)40 2839615 (Languages spoken: EN/DE/NL)
Hours of Operation: Tuesday - Sunday 10:00 - 17:00
Cost: Adults € 6, Children 6-17 € 3.50
"It is not the language of painters but the language of nature which one should listen to.... The feeling for the things themselves, for reality, is more important than the feeling for pictures."
More Van Gogh Quotes