Before and After
Comparison of Van Gogh's Early Paintings with those after being influenced by Impressionism.
During Vincent's early years as an artist, his palette of color was muted and dark, inspired only by the filthy worn faces of peasants. His paintings were expressive stabs at effectively depicting this working class in a natural realistic way. His obsession of peasant life was met properly with these drowning colors that were frowned upon by the Impressionist and Post Impressionist. These two new artistic styles were rising rapidly and flushing out the dark colors used on Van Gogh's paintings and replacing them with bright, vibrant "candy" colors of the new artistic age.
After Gogh moved to Paris to live with his brother Theo in 1886, he reached the realization that his dark muddy palette of colors was hopelessly out of date and was undeniably replaced with a growing spectrum of Impressionist color. Likewise, painting in realistic terms was also replaced with free flowing gestures of paint to present the feeling of the subject matter verses the actually representation of it. Gogh soon adopted these Impressionist and Post Impressionist idea's and began painting with his own highly personal style.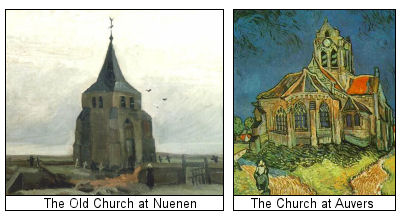 These new paintings that were being created by Van Gogh during this period were near opposites of his earlier pieces. To the left there are two paintings of churches. The first (on the far left) was painted before Gogh became influenced by the Impressionist and Post Impressionist. The other (on the right) was painted after he moved to Paris in 1886. As one can plainly see, they are very different representation of churches. Both paintings have aspects that make them great!
The following is a description of differences between the two paintings depicted above.
The Old Church at Nuenen is painted in dark mudding colors (as was standard for Gogh's Early Paintings)
The painting is a literal representation of the church, sky and surroundings.
The use of color is very minimal. The dark church and light sky keep the eye focused on the building.

The Church at Auvers is painted in the bright colors of the impressionist and post impressionists
The free forming lines cause the subject (the church) to become wavy and appear to be bending or melting
The vivid color schemes move the onlookers eyes around the painting
"We spend our whole lives in unconscious exercise of the art of expressing our thoughts with the help of words."
More Van Gogh Quotes