By 1886, Van Gogh started painting scenes of Paris with brighter colors. The following year, in the spring of 1887 he starts painting in much brighter colors and with quick animated brush strokes. That spring he stayed with a friend and painter Emile Bernard. Bernard, along with other pointillist and impressionist painters, had a big influence on Van Gogh, and you can see the change in his art. In Asnières, a suburb of Paris, Van Gogh painted landscapes with new vitality. Park scenes, views of the river Seine, and new factories were painted that spring with other artists like Bernard, and Paul Signac. Signac recalled painting along the banks of the river, eating at cafes, and walking back to Paris with Van Gogh, his shirt speckled in paint.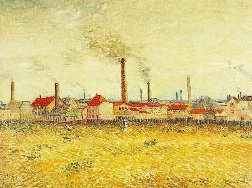 One of the themes in Van Gogh's paintings from Asnières was the rise of industrialism and its influence on the rural landscape. For Van Gogh, peasant life and that of the agricultural worker were seen as, perhaps, the truest form of living. From the beginnings of his adulthood, when he was exploring vocations in religion, he was always concerned with the workingman. He depicted this subject matter throughout his career, including in his landscape paintings. For Van Gogh, landscapes are more than depicting a natural setting; they are celebrating nature, those that live within it, and those that work it.
Van Gogh painted his first wheat field in 1885 in Sheaves of Wheat in a Field, but in 1888 it became a major subject matter for him. From then on, Vincent painted wheat fields wherever he was in France. In Arles, where he lived with Gauguin, Van Gogh painted fields and farmhouses. Farmhouse in a Wheat Field shows a tree growing in an expansive field of growing wheat, before the harvest. In the distance beyond the field sits a modest white house with a yellow roof, lit by the bright sun. After leaving Arles, Vincent checked himself in to a mental hospital in Saint-Remy. From there, through a window, he could see a wheat field in the distance. The twelve paintings he did from this window show a field of growing wheat, fenced off from a town beyond. Even further in the distance, beyond the town are blue mountains. In the morning Vincent could see the sun rise over these mountains and observe the changing colors of the landscape as the sun moved across the sky.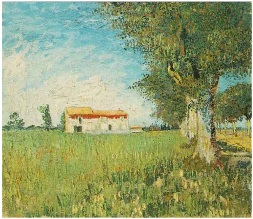 Landscapes showing the growing industrial society can be seen as a warnings showing what they were losing in France at the time, but wheat fields have a very different meaning. Van Gogh's landscapes, especially those of wheat fields show a subject matter he holds very dear. From biblical verses about sowing land, to modern poems about grass, Vincent was well aware of the societal importance of agriculture. As a metaphor for life, wheat and agriculture show the life cycle; it grows, gets harvested, and sustains other life. Van Gogh painted all of these stages, from The Sower planting the seed, the views of wheat fields in Farmhouse in a Wheat Field and the views from his hospital window, to Field with Stacks of Grain, showing the harvested wheat, painted the last month Vincent was alive.
In 1888 Van Gogh was living in Arles, painting the local people and the landscape in the south of France. Arles is situated along the mouth of the river Rhone, and this river provided an ideal setting for Van Gogh to paint. Starry Night Over the Rhone shows the city at night, lit in bright yellow lights, with a dark blue night sky above, showing the big dipper, or as Vincent referred to it, "The Great Bear." Van Gogh saw opportunities in Arles to challenge himself by painting night scenes, and Starry Night Over the Rhone was one result. A year later in Saint Remy he painted another night scene with similar elements. In Starry Night he shows another night scene, this time a town in the distance with a cypress tree closer to the viewer. Van Gogh's Starry Night shows a much more dramatic night scene with thick brush strokes of the night sky and clouds swirling around bright yellow stars contrasting against the rich dark blue of the sky.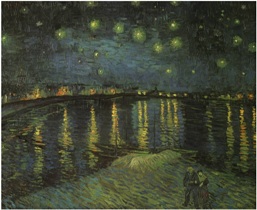 While Van Gogh said he didn't see himself as a landscape painter, nature was often the subject of his work. It is true that he often incorporated figures in them, which distances them from traditional landscapes, but the overall effect is quite similar. Van Gogh's landscapes were directly related to his thoughts about life and death. Like wheat fields, Van Gogh visited the subject of Cypress and Olive trees to show the cycles of life, and with the harvesting, death. As someone who struggled with relationships he still had an acute understanding of people and understood the important relationship people have with nature. His landscapes show that relationship.