Van Gogh Inspired Poetry by Ian Henery
The following poems are by Walsall Poet Laureate Ian Henery based on works by Van Gogh. The first three poems were inspired by Van Gogh's drawing Sorrow, 1882. In this drawing, shown right, Van Gogh depicts Sien (Clasina Maria Hoomick). The first poem I Miss You is written from Sien`s point of view, while the second poem titled Missing You is written from Van Gogh's point of view. The third poem Missing Siena is written from Van Gogh's view point as he contemplates moving to a new town.
I Miss You
I miss you
As the grass awaits the wind
Or the morning sky awaits the sun.
Although I look for you
In every doorway,
I find only darkness
In my heart.
I miss you
As the flowers await the rain
Or the evening sky the stars.
Although I look for you
In every cafe,
I find only emptiness
In my soul.
I miss you
As lungs miss oxygen,
A beating heart blood
And tired eyes sleep.
I miss you, I miss you
And loneliness lingers on:
I miss you.
Missing You
The words
Could be written in blood:
"I miss you".
Throughout history,
How often
Do these emotive syllables
Echo?
"I miss you".
Devoid of cliches,
Rich with self pity,
How can it be,
One person
Producing so much happiness,
So much pain?
"I miss you"
And metaphors are allusive.
I sense abandonement,
Misunderstanding
And the howling cry
Of loneliness.
I miss you.
Missing Siena
Cracked window pane
Reflects
Demoralised face
And two eyes
Grown red with crying.
There was a time
When this room
; ; ; ; ;was filled
With another set of eyes,
Piercing with a blaze
Of Truth
; ; ; ; ;Love
And Life:
You.
I am all alone,
Here
And those paintings,
You and I,
Torment.
Scenes of two lovers,
Laughing between trees:
Sea kisses,
Picnics on the beach,
The world looked young,
Carefree
And a good place.
Another town
And I can only see loneliness.
Winter.
The bitter bite of memory,
Haunting like guilt:
Why?
I am away from you,
From myself
And it hurts.
I want to be reflected
Before your eyes,
Held in those maternal arms,
Close to your breast:
My resting place
And home.
I miss you.
The New Art Gallery Walsall currently has Van Gogh's drawing Sorrow, the work which these poems are based, in its collection. Find out more about The New Art Gallery Walsall. In addition to these poems, Henery also wrote the following Van Gogh inspired poem based on Van Gogh's Portrait of Adeline Ravoux, 1890.
Vincent Van Gogh
(A Symphony of Blue)
The spectrum`s flaming colours shot on the palette,
Weavers and ploughers reflected in the artist`s eye.
Vincent celebrated their working lives in his paint,
Their souls eased on canvass under the oiled sky.
Vincent caught the weathered faces and daffodils,
The darkened wood on the loom from sweating hands;
Swirling clouds and fleeting shadows on the hills,
All committed on canvass for others to understand.
But they did not - and his talent wanted recompense.
Vincent`s soul burned, painting skies changing hue,
Blessed with all of the sun`s own bright radiance
Before suicide in wheat fields near the Cafe Ravoux.
I am Adeline Ravoux, subject of The Blue Symphony:
Nobody understood Vincent, it tormented his soul.
I watched my dear friend slowly losing his sanity
And killed himself because he was working in a hole.
A Memoir
Dressed in blue, I sat in a chair,
A blue ribbon tied back my long hair.
I have blue eyes and blue the background:
A symphony of blue, Vincent painted the sound.
About the Author
On National Poetry Day 2011, the Mayor of Walsall, Councillor Garry Perry, shown left, made Ian Henery Walsall`s first Poet Laureate. Both Ian Henery and the Mayor of Walsall are very involved in charities. Find out more about the charitable projects. For more information on Ian Henery and his poetry please visit: www.ianhenerypoet.com.
In addition to his Van Gogh inspired poetry, Henery recently wrote 8 poems for the University of Wolverhampton in honor of the 2012 Olympics. Learn more about the University of Wolverhampton.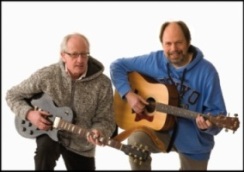 Photo by Ian Bateman
Ian Henery is currently working with musicians Stephen Plant and Tim Philpott to set his Van Gogh poems to music. Stephen Plant, shown on the left in the photo, is a lawyer from Stoke and working as a commercial lawyer in Birmingham. His claim to fame is that Robbie Williams the pop star asked him to play guitar on "Angels." Stephen plays with a Rory Gallagher tribute band. Stephen has been tasked with composing the music to the three poems inspired by Van Gogh`s Sorrow. Tim Philpott, shown on the right in the photo, is a road safety officer for Wolverhampton City Council and semi-professional folk singer. Tim and Stephen were also the orchestra in a play written by Ian Henery, Harvest Home (World Citizen), performed by scouts to help raise money for an orphanage in Tanzania, Forever Angels, which caters to abandoned children and children who are HIV positive.