Sunflowers: Other Artists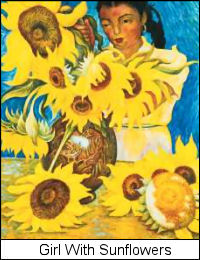 Vincent van Gogh's sunflower paintings opened a door to a new evolution in decor and art. Not only did Vincent van Gogh inspire others to paint sunflowers, but he also created a trend that would span various lifestyles and personas. Van Gogh's infamous sunflowers altered many views on color schemes, exaggerated features, and stereotypically beautiful flowers in minimalistic form.

The Painting to the left (Girl with Sunflowers or Muchacha con Girosoles) was created by 20th century artist Diego Rivera. Rivera was influenced strongly by Vincent van Gogh, but also portrayed his personal political message in his art. His paintings offer a lot of social commentary about the time period, and involve turbulent expressions of anti-establishment views. This particular painting is a possible parody of Euro-centrist art establishment. Rivera lived during a time when self-consciences is openly displayed in artwork; in this piece his spoof of the Impressionist's short vibrant brush strokes is vividly displayed behind the girl in the painting. Also, the girl is not a Caucasian. One may wonder if she is taking part in the European impressionists still life or is she the worker behind the scenes who made these famous still lifes possible. Never the less this painting still offers tribute to Van Gogh himself. Rivera, like Van Gogh, enjoyed portraying peasant life and flowers (mainly Calla Lilies instead of sunflowers). These Calla Lilies have become another trend inducing series of paintings.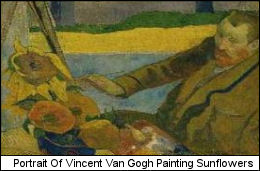 The painting to the right (painted by Paul Gauguin) , much like Rivera's, is a tribute to Vincent van Gogh. However this tribute is different in the fact it expresses Gauguin's long friendship and interchanging artistic views. This piece depicts Vincent painting one of his famous sunflowers. Considering Gogh first painted his famous depiction of the sunflower for Gauguin to decorate his room with, it is understandable that he returned the favor of painting this image of Gogh working on one of his pieces.



Below you can view some artists that have also painted sunflowers and a brief summery of their work.


Name:Alfred Gockel
Birth/Death Date:1952--
Gockel Fine Art
Biography: Alfred Gockel is known for his bright flowing colors, and broad range of completed pieces. His artwork is uniquely identifiable and a pleasure to look at.



Name:Gustav Klimt
Birth/Death Date:1862--1918
To Learn More: Expo-Klimt
Biography: Gustav Klimt's art was viewed as to sensual and erotic for his time. Although 'The Kiss' is his most famous work, he had also painted two fairly important sunflower paintings.



Name:M. G. Luffarelli
Birth/Death Date:Unknown
To Learn More: Mgluffarelli.com--(English Translations Provided)
Biography: Luffarellis watercolors are bright and brilliant. These paintings expressively capture the nature of sunflowers and lighten up any environment. Her art has been exhibited around the world.



Name:Vitali Komarov
Birth/Death Date:1968--
To Learn More: Komarov Art
Biography: Vitali Komarov's contemporary impressionist paintings are outstanding! His grasp of color is wonderful and his use of if is even more amazing. His work is a personal favorite of mine. He has added a new modern twist to the impressionist style.

Sunflowers Paintings:

To Return to
Vincent van Gogh: Sunflowers
.
"If ... boyhood and youth are but vanity, must it not be our ambition to become men?"
More Van Gogh Quotes