Van Gogh's Haystacks - Paint with Me
Haystacks Video Transcript
Those are Purple
Kat: Hey Princess Latte. What are you doing today?
Princess Latte: Hey Kat, today I'm working on painting some of Van Gogh's Haystacks.
Kat: Oh cool. Where was it painted?
Princess Latte: He painted those in Provence.
Kat: Nice! But I always thought Monet was the haystacks guy, did Van Gogh also like haystacks?
Princess Latte: Yeah, Van Gogh did like haystacks. He was kinda into the whole peasant genre as a whole.
Kat: I feel like it's a lot brighter than a lot of the Van Goghs I've seen.
Princess Latte: Yeah, I can see where you're coming from. You'll find that when he painted from the Netherlands, things tend to be a lot darker there just because things are naturally darker in The Netherlands. The sunlight in France is much more intense, which really helps build on the impressionist view.
Kat: Cool. Did you paint a needle in the haystack?
Princess Latte: No.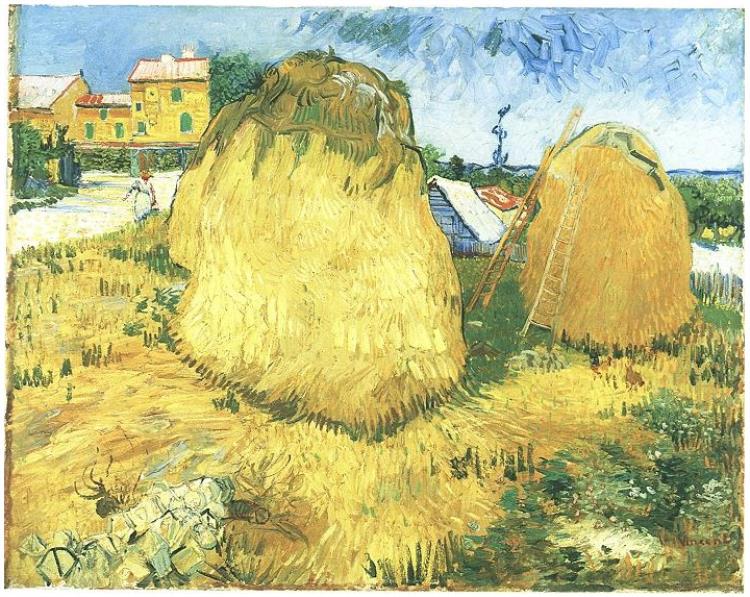 Prints of Van Gogh's Haystacks
Materials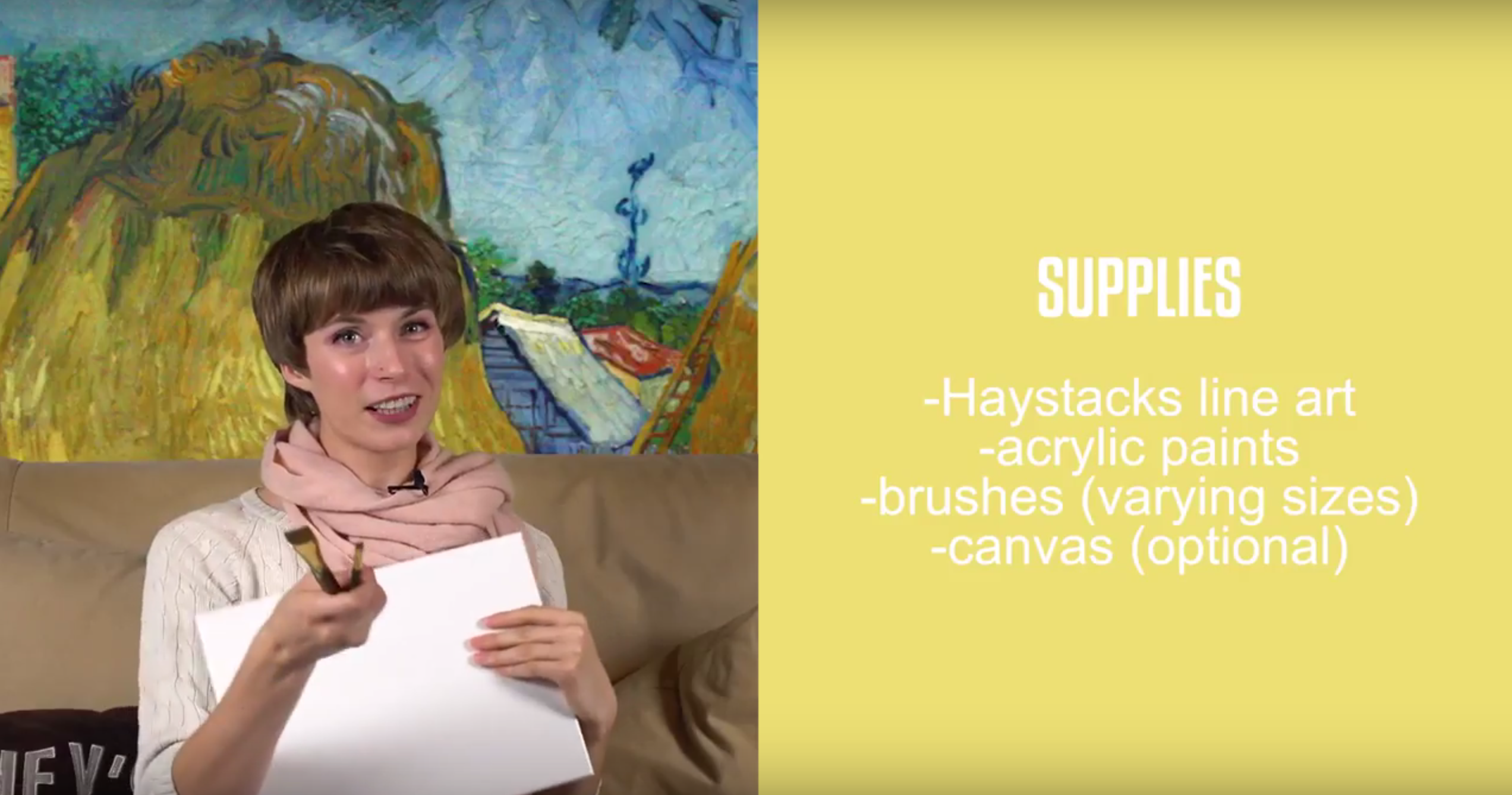 Alright. So, for today's tutorial you'll need:
Some Van Gogh line art which you can download from the link below.
If you're going to be doing an image transfer technique you can follow along with the tutorial that we've provided above.
You will need a large set of acrylic paints. A set of brushes of varying sizes and you will need a canvas. Or you could paint right on top of the image itself, but generally I find it to be a bit easier when you have something firm like a canvas.
Don't forget to bring your creativity.
How To Paint Van Gogh's Haystacks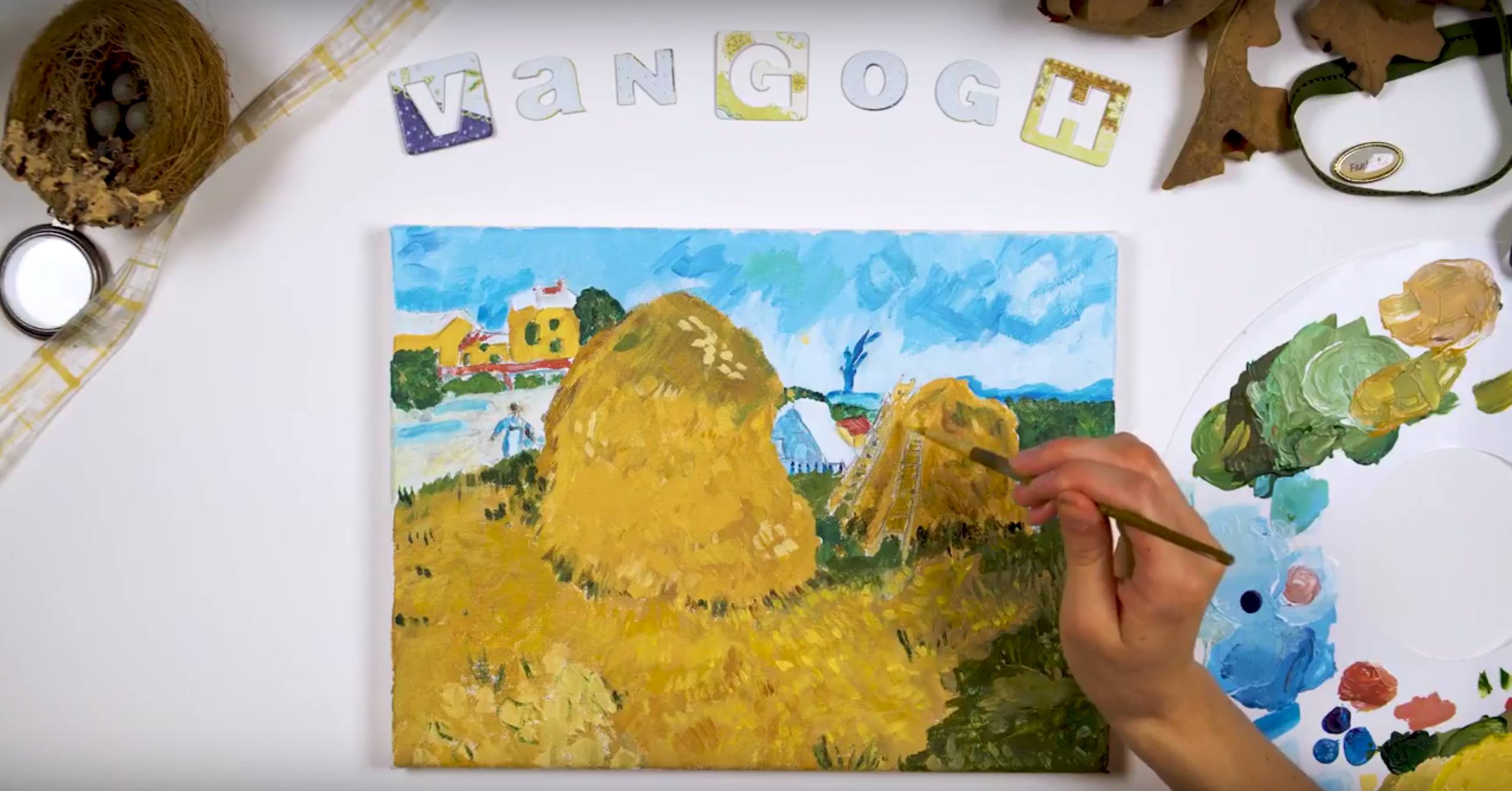 I'm going to start by mixing some of the paints for the sky. It's easier to start at the top of the painting and work your way down, then you're less likely to dip your shirt or lay your arm in the wet paint. Naturally, since it's a light blue sky, I'm mixing blue and white. As I continue to mix paint, some of the blues end up slightly darker or lighter. But as long as you use big strokes and your color in blocks, it actually makes it look more natural and more like Van Gogh's. The sky is rarely just one shade of blue, anyway. Then, I will mix a darker blue to put down by the horizon, as well as to make this little blue tree. Put a few dark brush strokes into the sky. This unblended style is Impressionism's signature.
To make the yellow for the rest of the buildings, I will use this mustard yellow with just the littlest dab of red and then white to get the perfect hay color. Looking good. You know what would look great with this kind of mustard? A light maroon. Let's take this crimson and mix it with a bit of white to make Van Gogh's roof color.
For the trees, I will use two greens and a blue. Make small, quick strokes in this section to give the trees more movement and life. We can use the colors already on our palette to make a lighter green and give those trees some shading. I'm going to pick up some of mustard that we made earlier to mix into the green. We go over most of the dark green with small strokes so that the dark becomes background detail. Then use it to paint the windows. Then, I'll add a little more green and more mustard to get a lighter yellow and finish off the green in the top-left corner.
Now, it's time to start on our haystacks. I'll mix the same mustard from before. Just paint in broad strokes, don't worry, we will build up layers of color. Mix in more red to make it a darker shade of mustard. I'm going to apply it largely around the bottom and middle of the haystack. Right now we're using wet on wet so we can expect some degree of blending between the colors. On top, we use some mustard and green for freshly cut hay. We can use the same color around the bottom of the pile and then mix a slightly more green color for the grass. I use a dark mustard to add some more definition to this haystack and the one next to it.
I scumble in some pale blue to add eye-catching detail to the sky. Scumbling is when you add a softer color to help blend out large blocks.
Lucky for me, my cheap pack of brushes came with a very wide brush so I can apply the first layer of hay to the ground very quickly. Use the widest brush you have for this.Then I take a smaller brush to get the edges exactly where I want them to be. I'm going to try to add brightness to the haystack now. Later we will the painting aside to dry so we can get a very light yellow on top. With your light yellow, do the rocks down in the lower left corner before we move onto blue.
We'll start by filling in this area with an incredibly light blue like what we used with the clouds. Then we'll move onto a sky blue. Use a small brush for the details on the woman's dress. Then do her face and hands in a peachy-yellow color.
Pull out that wide brush again, we're going to lay down the background for the grass. Then we'll get a small brush and add a variety of greens to create the impression of many individual blades. Just mix your dark green with yellow or white to make different shades. Add a little yellow to that grass, then finish filling in the hay portion of the ground. My rocks blended into my hay somewhat, so I used a lighter yellow to pull them back out. I'm going to add some fine dark details and build more layers on the hay on the ground like I did for the hay bales.
We're nearly done, but it's time to set it aside to dry. If I continue to put light colors on now, they will mix with the dark colors and I won't be able to get the shades I want.
One Day Later
Now that the painting has dried, I can take my small detail brush and add light yellows to ground.
Can you feel the wind blowing the hay? This is the yellow straight from the tube with just a touch of mustard. Add it on the hay bale and it's clear that this was painted on a sunny day when it was bright and nearly cloudless. Add some yellow dots to the green to pull it all together, and congratulations. You finished Van Gogh's Haystacks!
Still More to Go!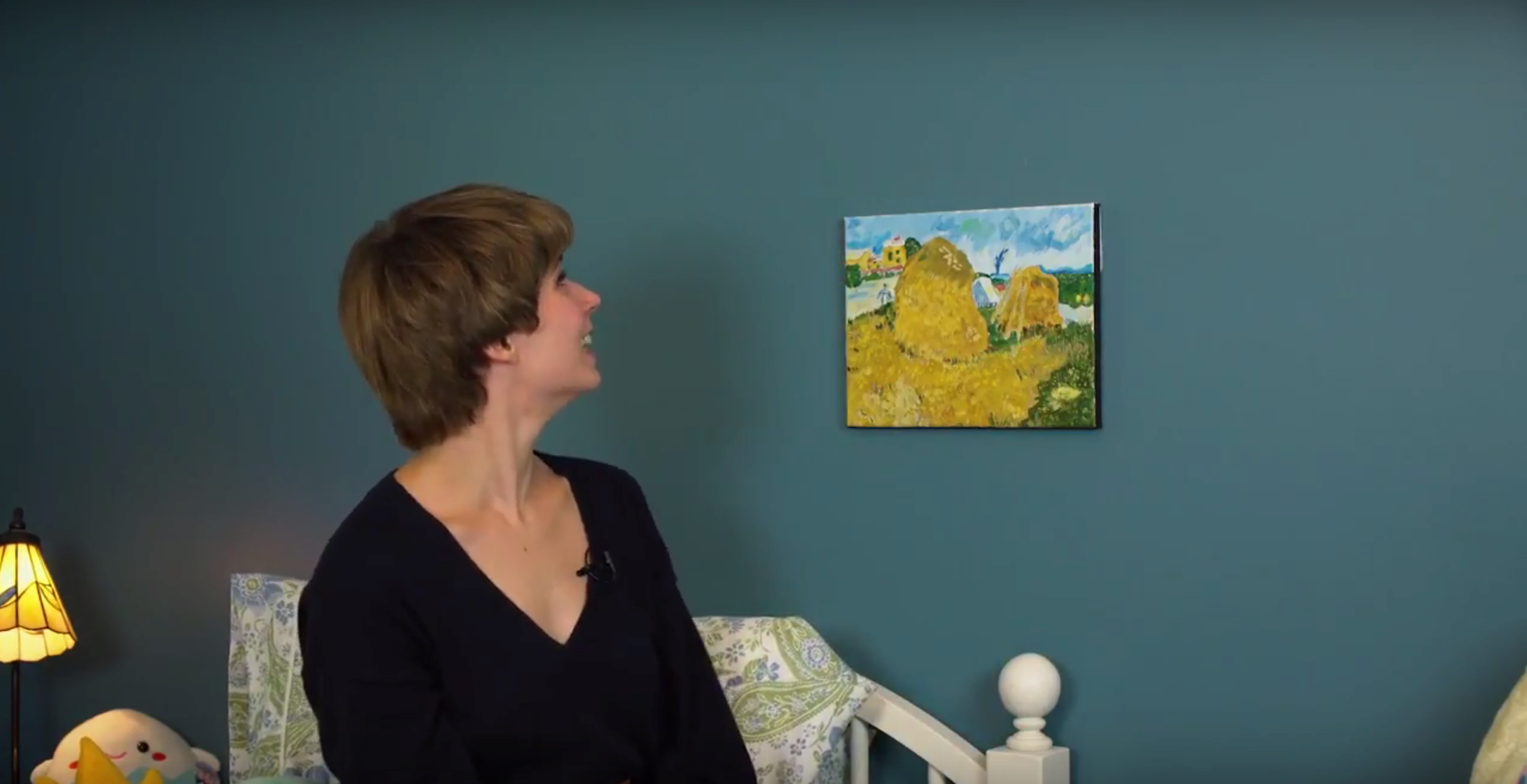 Alright! It looks really nice against the wall, doesn't it? Though… there's still so much space! I think we need to do some more paintings, don't we?
you can also download ACROBAT READER here